With the quick progression of precision agriculture today and the need for accuracy and efficiency comes the need for the most precise level of GPS corrections that we can get. This is where RTK level corrections come in handy. B&S Enterprises is proud to be able to provide two different methods of acquiring RTK corrections, providing our customers the maximum coverage area and availability of sub-inch accuracy. B&S Enterprises has a network of 13 RTK towers, as well as VRS based solutions so that growers can access RTK level corrections through means of cellular data transfer. Please contact us for more information on RTK corrections, what type of RTK corrections is best for you, pricing and more.
RTK Network
We currently have 13 RTK towers in our service area throughout eastern North Carolina. This allows growers within range of the towers to recieve RTK correction through means of an RTK Radio. We also will work with surrounding dealers to provide a seamless RTK signal when moving between areas. Please contact any of our Precision Farming Specialists to find out if you are covered by our network or when we will be coming to your area.
Our RTK Coverage Area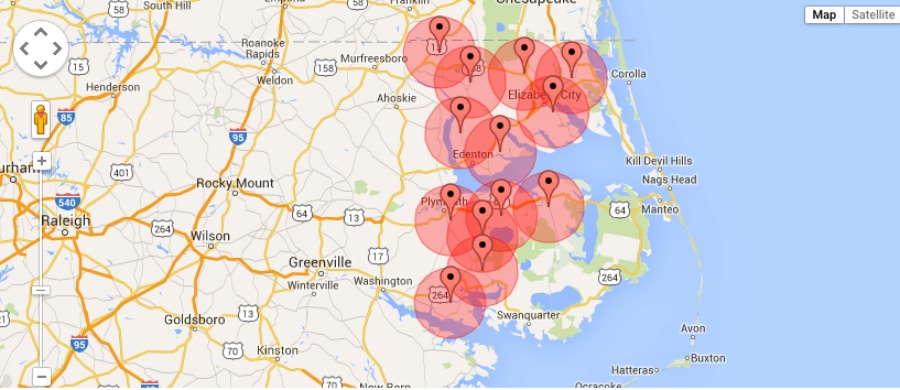 VRS & NC CORS Network
We also provide another method of acquiring RTK level corrections, called a VRS Network. VRS, or Virtual Reference Station, allows us to take advantage of a series of virtual geographic reference points, and use them for RTK level corrections, instead of corrections based on the location of a tower. Trimble's VRS networks use RTK solutions from the Trimble® RTKNet software to provide high-accuracy, real-time kinematic (RTK) GNSS positioning for wider areas. A VRS network improves productivity while at the same time reduces costs, by eliminating the need to set up a base station. A VRS network is made up of the latest in GNSS hardware, modeling and networking software, plus communications interfacing. Once set up, RTK roving receivers in the field have access to real-time network modeled corrections. In the field, you also have the reassurance of the built-in integrity monitoring system that warns if there are any problems with the data.
Here in North Carolina, we take advantage of the NC CORS network, which is a VRS network maintained by the North Carolina Department of Transporation. We gain access to this network by means of a cellular modem in the tractor. B&S offers multiple options for modems, the most common including the Trimble DCM-300 and the Raven Slingshot Field Hub. With access to the CORS Network, we are able to access RTK corrections state-wide, even if you are not in the range of one of our RTK towers.
NC CORS Network Coverage Area